NEWS
Frost Research is now supporting the Warwickshire charity Doorway. Find out more about Doorways work on their website www.doorway.org.uk
8th May 2012
KIRSTIAN FROST
Our greatest strength is our hands-on approach. Kirstian Frost our Managing Director personally sees every project through from start to finish, ensuring continuity, professionalism and efficiency. Kirstian has honed her skills over more than a decade of qualitative research at senior level.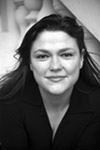 Kirstian Frost
Managing Director, founded Frost Research in August 2002. She has a BSc in Business Studies, and has worked in market research since 1996, including three years at Conquest Research and one year as Business Director at Goldfarb Consultants.
She has completed several training courses on aspects of qualitative research and this, together with her ten years' experience (much of it at the highest level), has enabled her to perfect her skills in all aspects of qualitative research. While she is highly accomplished in all areas, many clients single out her moderating for particular praise.
She is a full member of the Market Research Society and of the Association for Qualitative Research. On every project that she undertakes, she guarantees her full personal commitment from beginning through fieldwork to presentation of results.